Stealth Master: Assassin Ninja
1.12.11
Ninja Game – A Thrilling Espionage Experience
Are you a fan of ninjas? Do you have a penchant for stealth and strategy? If yes, then this ninja game is perfectly suited to your interests. Stealth Master: Assassin Ninja is a fun game in which you get to perform the role of a contract killer and take out notorious criminals. It offers a tantalizing experience that combines the thrill of espionage with the artistry of a skilled assassin, resulting in a captivating gameplay that keeps you on your toes. Your aim in this game is to take up contracts to eliminate evil mobsters, executives, and gangsters. You will have to infiltrate the building in which your target is hiding and kill all the henchmen at each floor before reaching their boss.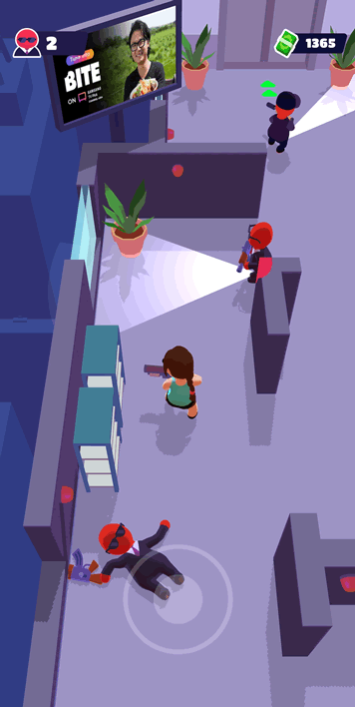 Stealth Master: Assassin Ninja has immersive gameplay that is ably supported by nice graphics. The visual elements of this ninja game enhance the gaming experience manifolds. It has detailed environments that transport you to various clandestine settings. The corporate skyscrapers that you have to infiltrate are designed with a lot of detail. Moreover, the character designs and skins are sleek and exude the aura of a true ninja, contributing to the immersive experience. You won't have any issues playing this game thanks to its intuitive and user-friendly controls. You can move you character on the screen using the virtual joystick located at the bottom of the screen. The touch controls are very responsive and allow you to make the precision movements required for making sneak attacks.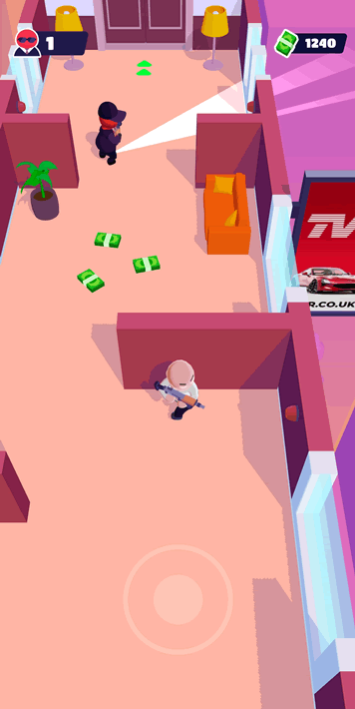 This ninja game offers a variety of levels to you. Each level presents a new challenge that requires a balance of strategy, patience, and precision. Your primary goal in each level is to complete the contract you are given and kill the target. While trying to reach your mark, you will have to take down the guards positioned at each floor of the building. These guards have weapons of their own and won't hesitate to shoot if they spot you. So, you need to move stealthily and kill them without raising suspicion. Aside from the guards, you will have to remain mindful of security cameras, lasers, and all sorts of traps too. You will get cash for completing your contracts. Moreover, you can collect cash scattered all over the floors of the building while killing the guards.
Stealth Master: Assassin Ninja provides various heroes that can be used for completing the kill contracts. Each hero has their own special skills and weapons of choice. You have the option of upgrading the heroes to increase the mastery of their respective weapons and skills. These upgrades cost tokens. You can get these tokens from chests that are awarded after completing each contract. Upgrading a hero to level 10 will unlock their special skin. Aside from the contract kills, you are offered special missions in this ninja game too. These missions range from easy to difficult and require you to use specific heroes. You can also take part in limited-time events in this game and earn lots of rare prizes and rewards.
Features:
Lots of challenging levels
Complete contracts by eliminating the target
Various heroes to choose from
Option available to upgrade the heroes
Unlock special skins of heroes by upgrading them to level 10
Complete missions with varying levels of difficulty
Participate in limited-time events
Conclusion:
Stealth Master: Assassin Ninja is a game for people who are fans of stealth action and strategic gameplay. It allows you to make use of your skills as a ninja assassin to sneak up on your targets and finish them off with deadly precision. You will enjoy killing the bad guys with the variety of weapons and guns at your disposal in this ninja game.
RELATED PROGRAMS
Our Recommendations
---
---
---
---